"There are eight million stories in the naked city. This has been one of them."
"The Naked City" was a Screen Gems Television, Shelle Productions, black and white cop show that ran from 1958 to 1963. It had two purposes.
The first was to do a docudrama about "real" police work. The style of the show is very similar to the "real" films of the era that had preceded it like "Gun Crazy" (1949) and "The Asphalt Jungle" (1950). Many of the episodes have a common pattern: a voice over narration setting the scene, the commission of the crime, the police officers at the station planning, scenes in the streets of New York of both the officers search and the bad guys fleeing, and the climax wherein most often the bad guy suffers the consequences for his actions.
The emphasis is on location shooting. In fact, that is so important that is appears to be the second purpose for the show. The writers and producers have a love for New York that is endless and stage the show in readily identifiable locations throughout New York. Most of the episodes open with the voice over narration: "Ladies and gentlemen, you are about to see 'The Naked City.' I'm Bert Leonard, the producer. This story was not photographed in a studio. Quite the contrary. The actors played out their roles in the streets and the buildings of New York itself." Viewers can watch this show to see what NYC looked like during this five year stretch. It is almost hard to take you eye off what is going on in the background--like stepping into a time machine. Often street photography is worked into the story arc. One of my favorite episodes is season one, episode 17, Burst of Passion, in which a madman shooter takes refuge in the deserted Coney Island boardwalk. The backdrops of real city buildings as sets are magnificent.
The time machine aspect is also true for the actors used in the production. Half the fun of watching these episodes unfold is to anticipate who is going to walk in front of the camera next.
The first season opens with the detectives of Precinct 65 under the command of Lt. Dan Muldoon (played by John McIntire). Muldoon is a wise old veteran who mentors all the other cops in the squad. He also has a slight Irish lilt to his speech which is sort of interesting. He is a kind, gentle man not only with the squad but also the people he meets on the street. McIntire quit in the middle of season one ironically because he wanted out of New York. You probably recognize him from one of the million roles he played in Westerns on film and television including the star of Wagon Train.
(SPOILER ALERT)
In Season One, Episode Twenty Five, The Bumper a strange thing happens. According to the Internet rumors, McIntire did not want to work in New York City so he asked out of his role. For whatever reason, Muldoon is killed off by a mob hood called The Bumper.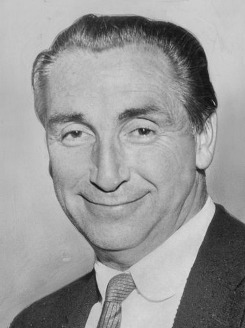 Muldoon's replacement came quick. It is Horace McMahon who played Lt. Michael 'Mike' Parker in the next 112 episodes. Parker is the opposite of Muldoon: he is mean, loud and cuts no one any slack. His crusty personality at times almost comes across as weak acting until you realize how consistent he is over the course of the show--acting which got him an Emmy nomination.
(END SPOILER ALERT)
The first show documents the first day on the detective squad for new Detective Jim Halloran (played by James Franciscus). Halloran is married and occasionally we see his wife (played by Suzanne Storrs) in their apartment. While nothing seems to bother Muldoon, Halloran is shown affected by his first killing and for the consequences of having a cop hurt on Christmas who had taken his shift.
Look at the face above. Have any problems thinking of him as a world weary detective? It is Harry Bellaver as Arcaro, just another face in the squad room but an actor who played in 136 episodes of the show.
By the time the second season rolls along, Mike Parker is firmly in charge. Detective Jim Halloran (James Franciscus) is gone from the squad with no explanation. He is replaced by Paul Burke as Detective Adam Flint. Flint looks a lot like Halloran which has to be intentional to help cover the missing actor from season one.
But let's talk about the cast of guest stars. And what guest stars they are.
Season One, Episode Three: Diane Ladd makes her sixth ever screen appearance (she would guest star again later in the series run)
Season One, Episode Four: Jay Novello does a credible job as a homeless man who wants to adopt a boy
Season One, Episode Eleven: Peter Falk in his second year as a screen actor. Here he makes a brief appearance as an assassin who tosses acid in someone's face.

Season One, Episode Fifteen: George Maharis makes his first of four appearances as a guest star on this show. Maharis would go on to star as Buz Murdock in Route 66.
Season One, Episode Seventeen: the ever present and always off-putting Woodrow Parfrey plays a random shooter in a brief but chilling performance.
Season One, Episode Nineteen: Jack Klugman is a patrol man killed in the line of duty whose son is Vic Morrow (who in a few short years would become the star of Combat!).
Season One, Episode Twenty: Tough guy Lawrence Tierney makes an appearance as a killer.
Season One, Episode Twenty Four, Ten Cent Dreams: Ross Martin is the big star as an Italian immigrant but the surprise is the man who sells him his winning number in the rackets: Al Lewis--yes, its Grandpa Munster. (Lewis plays a hit man hearse driver in Season Two, Episode Two.)
Season One, Episode Twenty Seven, Fallen Star. Robert Alda stars in this one as the manager/friend of a a fallen boxer (played wonderfully by Bruno Damon). Alda, of course, is the father of Alan Alda, Hawkeye on M*A*S*H*.
Season Two, Episode One, A Death of Princes. Eli Wallach plays a corrupt police officer who blackmails George Maharis (second appearance in a supporting role) into helping him pull a job. However, at the very beginning of the episode, Wallach shoots a criminal in cold blood--played by Peter Falk. (This is also Falk's second appearance in a minor, non-speaking role).
Season Two, Episode Four, Down the Long Night. Leslie Nielsen plays a man haunted by the surviving relative of a victim from a fire in his factory.
Season Two, Episode Five, To Walk in Silence. Claude Rains is an innocent witness who see Telly Savalas kill a man in a bookie's shop. This is only the fourth TV show that Savalas appeared on. If that isn't enough for you, Deborah Walley makes her screen debut as Claude Rains' daughter.
Season Two, Episode Eight, The Human Trap. Jack Lord (Hawaiian Eye) makes an appearance as a crime lord whose daughter is tied up in a murder.
Season Two, Episode Nine, The Man Who Bit the Diamond in Half. Walter Matthau plays a Greek tycoon whose wife is hocking his gifts.
Season Two, Episode Ten, Bullets Cost Too Much. In this episode which involves the decision to shoot or not to shoot during a crime, the cast includes Jean Stapleton as the bar owner where the crime takes place and Dick York as the doctor rooked into treating the crook who gets shot. Bruce Dern makes his third screen appearance in this episode as the hood who takes a bullet. James Caan makes his screen debut in this episode as one of the gang who rob the bar.
Season Two, Episode Eleven, Murder is a Face I Know. Theodore Bikel does a wonderful job as a hit man who will not talk when he is caught. The hit man's son is played by Keir Dullea ( I'm sorry, Dave. I'm afraid I can't do that) who later will be Dave Bowman in 2001: A Space Odyssey.
Season Two, Episode Thirteen, A Hole in the City. Robert Duvall is the head of a gang that holds up in a building surrounded by the police. This is the first of four appearances Duvall will makes as different characters. Ed Asner makes his sixth screen appearance as a Lieutenant, a role he will reprise again in this season.
Season Two, Episode Fourteen, A Well-Dressed Termite. Jack Klugman returns (S. 1, Ep. 19) to the show as a man caught in his own web.
Season Two, Episode Fifteen, The Day it Rained Mink. Keenan Wynn is the big star in this show when a big plan goes awry and he gets a conscience.
Season Two, Episode Seventeen, Shoes for Vinnie Winford. Yup, that is Dennis Hopper playing a complete ass who runs a dance hall and probably is guilty of hurting his employees.
Season Two, Episode Twenty, The Fault in Our Stars. Roddy McDowall plays an out of work actor desperate for money. In an odd twist of fate, the part McDowall wants is held be an incompetent actor who cannot remember his lines played by Bruce Dern (his second appearance on the show).
Season Two, Episode Twenty One, Tombstone for a Derelict. Robert Redford makes his twelfth screen appearance as the leader of four boys who use the symbolic power of the swastika to try to send a message about the nature of the world.
Season Two, Episode Twenty Three, New York to L. A.. Here we have Flint going to L.A. to bring back two hoods accompanied by Ed Asner in a reprise of his character from Episode Thirteen. The two hoods grew up in an orphanage overseen by Martin Balsam. The two very scary punks are none other that Frank Sutton (Gooooleee, Srg. Carter) and Robert Blake.
Season Two, Episode Twenty Four, A Very Cautious Boy. Peter Falk makes his third appearance, the first where his name is listed and he gets the top billing as a hit man who practices judo.
Season Two, Episode Twenty Six, C3H5(NO3)3. Hume Cronyn does a brilliant job as a mosey man who builds a bomb.
Season Two, Episode 30, Sweet Prince of Delancey Street. A father, a son, and the son's best friend all tell a different version of the death of a guard in a factory. The son is played by Robert Morse, currently playing of the the senior partners on Mad Men. His best friend is Dustin Hoffman making his acting debut.
The writers do a very good job of creating interesting police dramas mixed with personal interest stories. By far my favorite writer on the show is Stirling Silliphant. Later, Silliphant would write over 50 books, create the television show Route 66 and win an Oscar for his scriptwriting on the film In the Heat of the Night.
If there a big weakness in the show it is that guns are always a blazin', shooting criminal with little post-shooting investigation, while the citizens of NYC stand around like bullets can't travel. Pretty much someone dies at the hand of the police every week.
If there is a big strength, it is the display of New York City's ethnicity. Many shows are based on a particular culture and the sociopolitical consequences of life in America. (One missing group are Americans of African descent).
Does the show still have relevance? I think it does. An example is Season One, Episode Seventeen, when a man does on a random shooting spree in the neighborhood, shooting innocent people indiscriminately. Can there be a more relevant story line for our era. Our how about a show where a man builds a bomb to disrupt a parade?
The first 39 episodes were 30 minutes long (and my personal opinion is that the show was crisper in the shorter format) while the next 99 episodes were one hour long.
Season one's theme, "The Naked City," by George Duning and Ned Washington, was released on a Colpix Record Album. It and the background music is another highlight of the shows.
I will watch season three and four in the future and report on those.
Every show ends with the tag line: "There are 8 million stories in the naked city. this has been one of them."